(I only read the short story, Every Girl's Dream, just now as I am writing up this post because I didn't even know it existed. You can find it in full over here)
 This was a series that I enjoyed a whole lot back when I was a (young) teenager. Because it left me with lots of happy feelings and because I am prone to re-read books that I used to love, there was only one logical conclusion: re-read this series, especially now that there is a new book out in the series. So that is exactly what has happened and now here I am to tell you what my thoughts were on re-reading this series.
There is so much repetition in these books (just recapping what happened in the last books)! Like a lot! It's something that either I didn't notice the first time I read them (maybe because then I didn't binge-read them like I did now) but the amount of things that get repeated (plot-wise, character-wise, anything-wise really) is just through the roof! As I said, it may be due to the fact that I read these books so shortly after one another that the previous book was still super fresh in my memory that I really didn't need telling who was who every start of a new book.
Suze was, in my eyes, a sassy goddess of a young girl back when I first read it. Luckily the sass factor was still there this time around. Though I might be inclined to say that it caught my eye a little less this time around, especially towards her family (they just really care and she is just sassing them all over the place!). Maybe this is just me getting old/no longer being in puberty myself though. It was still a very fun and important part of Suze's personality.
The adventures were still the same whirlwind of fun that I thought they were back when I first read these books. Of course it's all major crazy stuff, but it's just so enjoyable to read about Suze's adventures! There was rarely a slow patch in the book which just really loans itself so well to speed-reading these babies (sadly countered by the endless repetition mentioned above). You just fly through these books, and that can be so enjoyable! That's actually one of the main reasons that I really wanted to pick up this series in the first place: light and fast reading with lots of humour on the side.
Something else I noticed was that the characters weren't all that well-rounded. Of course this would take away from the speed of the books, and it's clear that Suze is at the heart of this series, and the others are just there as background filling sometimes. Not that it really annoys me in these books, as I said, if these secondary characters would have gotten more depth it would definitely be with a considerable change to the pace (and lenght) of the books. But it's really something that I never noticed before.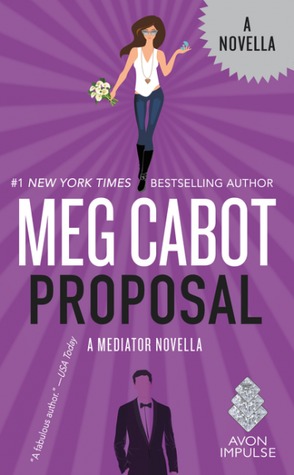 (this one came out as well without me having noticed it, so I'm putting it on my TBR)
And now I have nothing else to do but buy the new book and see how it compares to the earlier part of the series.