So this is a very short feature, but I thought it would be kind of fun. So I just pick up a book from one of my shelves and go to a certain arbitrary page (28) and pick an arbitrary sentence (4) and quote that here and talk about it. And next time, I'll do it all over again, same page, same sentence,  just with a different book.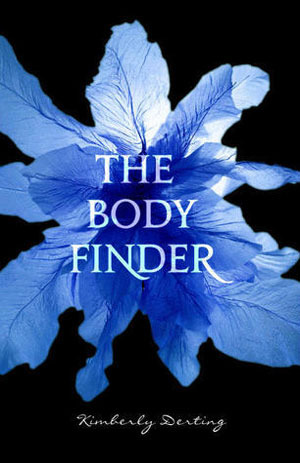 The Body Finder #1 by Kimberly Derting
She was right, and Violet knew it, but it didn't stop her from whining a little.
Let me just start by saying that this is exactly what I was afraid of when I started with this feature. That I would end up with a sentence that was anything but interesting. But I picked my arbitrary numbers (for the page and sentence) and now I'm sticking with it.
It's a good thing I have already read this book though, because this sentence would not captivate me at all. Who wants to spend their time reading about whiny teenagers? Even if they can sense dead bodies and killers. Anyway, the book really wasn't that bad, but this is just not a sentence that really does the book justice. I didn't particularly like Violet that much, so in that respect the quote does the book justice in my opinion. And the writing isn't stellar, I'm not saying it's bad, not at all, but it isn't great either. And that too is reflected here.
Have you read this book? Do you find the quote representative for what the book will read like?