So this is a very short feature, but I thought it would be kind of fun. So i just Pick up a book from one of my shelves and go to a certain arbitrary page (28) and pick an arbitrary sentence (4) and quote that here and talk about it. And next time, I'll do it all over again, same page, same sentence,  just with a different book.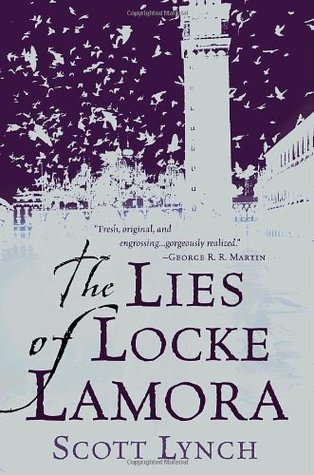 Lies of Locke Lamora by Scott Lynch
So great was the fame of Father Chains, the Eyeless Priest, that even Locke Lamora had heard of him; a man of late middle years with a chest as broad as a scrivener's desk and a beard that clung to his craggy face like a pad of scrubbing wool.
I only recently acquired this book and I haven't read it yet, but this random sentence is already making me super excited for it! I am stoked to find out more about this Eyeless Priest. I love the description of Locke also, he sounds like a very different protagonist which is nice, because changing it up keeps things fresh. This book just jumped to a very high place on the "books that I will be reading soon"-list.
Have you read this book? Is it representative for what the book will read like?