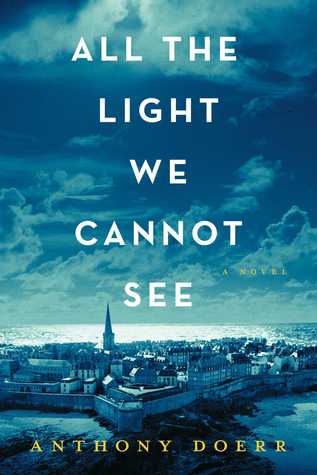 All the Light We Cannot See
Anthony Doerr
Goodreads Synopsis:
Marie-Laure lives with her father in Paris near the Museum of Natural History, where he works as the master of its thousands of locks. When she is six, Marie-Laure goes blind and her father builds a perfect miniature of their neighborhood so she can memorize it by touch and navigate her way home. When Marie-Laure is twelve, the Nazis occupy Paris, and father and daughter flee to the walled citadel of Saint-Malo, where Marie-Laure's reclusive great-uncle lives in a tall house by the sea. With them they carry what might be the museum's most valuable and dangerous jewel.

In a mining town in Germany, the orphan Werner grows up with his younger sister, enchanted by a crude radio they find. Werner becomes an expert at building and fixing these crucial new instruments, a talent that wins him a place at a brutal academy for Hitler Youth, then a special assignment to track the resistance. More and more aware of the human cost of his intelligence, Werner travels through the heart of the war and, finally, into Saint-Malo, where his story and Marie-Laure's converge.
This is a book where I went in blind (pun not intended). I pretty much just picked it up because I liked the title and kept on seeing it pop up all over the place.But I was so happy that I did pick up this book, and maybe I wouldn't have if I had known the theme of the book. Because in general I tend to stay away from books that take place during either of the World Wars. It's not that I hate reading about it, but it's just not something I willl find myself longing to read about. But in any case, I did pick it up and I thouroughly enjoyed this book.
The writing in this book was very gorgeous. The prose stood out to me in a very positive way, with me often thinking of how beautifully something was phrased. There was also such attention for detail, which really did give the whole story a very realistic feeling. I liked that there were about 4 storylines converging in this book. If you read the synopsis you might think that I have two storylines too many in that count, but I just think that there are four different starting points from which we go forward, which I highly enjoyed. (If you are stil confused, just pick up the book and you'll see what I mean).
All the characters in the book felt very realistic. This story is about two interesting people who are becoming steadily more interesting by meeting and interacting with new people. Especially in this time-period, the way people interact carries very big consequences. This book very beautifully shows us what war does to the small people. It's not about the important people at all. It's about the people that had nothing to do with the situation but that got sucked into it regardless.
The only thing that was not 100% my cup of tea is the pacing. At times it was just that little bit too slow. The whole book was not very fast paced but often I did not have a problem with it. But there were a couple of parts in the book where there was too little happening for too many pages.
In my opinion the emotionality to this book just keeps building and building throughout the book, and by the end of it all you just feel heartbroken. The lives that these charaters lived is just so unlike what we're going through in the western world. And the way that the story is told really lends itself to that slow buildup of sadness in your heart for all the things these people had to endure and how they were shaped by the situations of their time.
"Now it seems there are only shadows and silence. Silence is the fruit of the occupation; it hangs in branches, seeps from gutters…So many windows are dark. It's as if the city has become a library of books in an unknown language, the houses great shelves of illegible volumes, the lamps all extinguished."
— All The Light We cannot See