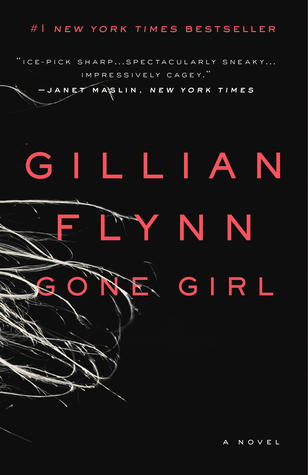 Gone Girl
By Gillian Flynn
Rating: three stars
Goodreads synopsis:
On a warm summer morning in North Carthage, Missouri, it is Nick and Amy Dunne's fifth wedding anniversary. Presents are being wrapped and reservations are being made when Nick's clever and beautiful wife disappears. Husband-of-the-Year Nick isn't doing himself any favors with cringe-worthy daydreams about the slope and shape of his wife's head, but passages from Amy's diary reveal the alpha-girl perfectionist could have put anyone dangerously on edge. Under mounting pressure from the police and the media—as well as Amy's fiercely doting parents—the town golden boy parades an endless series of lies, deceits, and inappropriate behavior. Nick is oddly evasive, and he's definitely bitter—but is he really a killer?
Better to be late to the party than to never show up right? In this case I slightly disagree because I feel that it has received a lot of great reviews and ,while this book was enjoyable in my opinion, it's just not as great as I heard that it would be. There are a lot of good things going on in this book, the plot for one, the characters for another. I also really enjoyed the order in which things were revealed, and how the book was split up into different parts. But on the other hand I wasn't wholly enjoying the writing and the pacing was just a tad slow for my liking.
That twist we all heard so much about? Yeah, that's a true zinger. Though I never really thought that the obvious option (the one the police was following) was the way things with Amy went down, I really hadn't expected that twist and how it just turned the whole story upside down. Gillian Flynn definitely thinks up a very strong story with lots of depth to it. And the same can truly be said for the characters. As the book goes on and we get to know everyone better, all the characters become so multidimensional that I wouldn't be surprised if I met them on the street (I'd be frightened to death to meet some of them, but they feel like they could exist). They also weren't all that likable, they had flaws (to say the least), they didn't always do what was expected of them or what would be in their best interest.
But the pacing that was perhaps just that tiny bit off, combined with the writing that didn't really fully hit the mark with me, left me in a bit of book limbo, where you like the story though you're not dying to continue reading. And that's disappointing because I feel that with a bit more speed to the pace this book would have totally sucked me right into the pages and not let me get any sleep before I'd finished it. This really could have been that type of book, with that plot and that huge twist, which just doesn't let you go until it's over.
Final Verdict: I don't think I will be re-reading this book, but I'm definitely up for seeing the movie!