Heir of Fire

(Throne of Glass #3)
Consumed by guilt and rage, Celaena can't bring herself to spill blood for the King of Adarlan. She must fight back…
The Immortal Queen will help her destroy the king – for a price. But as Celaena battles with her darkest memories and her heart breaks for a love that could never last, can she fulfil the bargain and head the almighty court of Terrasen? And who will stand with her?
At this moment this is the last book in the series and we'll have to wait a good while before number four comes out unfortunately. Yes that's right, I think it's unfortunate that we'll have to wait for the next book to come out. Partly because I'm enjoying this series a lot and also because I'm just not used to having to wait for books to come out anymore (I'm always late to the party these days it seems). But yes, I think this book was a lot of fun to read and I might even go as far as saying that this might be my favorite in the series.
The thing I like about this book are the diversification in the characters. We get to meet more people and that's always a lot of fun, especially if they are a mixed bunch. And that's definitely what it going on over here. Suddenly we get a much wider view of the world because we're seeing it from different viewpoints. I think my favorite to read might be Manon. She's just very interesting and totally different from the others. I also really enjoyed reading about the elves and Rowan was enjoyably surly and mean.
Another strong point of this book is that it is clearly heading somewhere. This was already the case in
the second book
, but even more so in this one. You can see that things will be going down, and soon as well. And while the set up is clear, there is still a lot going on right now as well. So that just really keeps the story moving at a nice pace.
Some things did bother me in this book, but not in a very direct way. It's more in hindsight that these minor annoyances come up. A thing that bothers me is that there's still not enough world building for me. And at this point I don't think it will change. Maybe it's just not in Sarah J. Maas's writing style, or at least that's what I'm guessing. And while there's just enough to get by, I could really enjoy more. Another thing that slightly bothers me is that, for the past three books, I've been reading about Celeana, the best assassin ever. And I'm just not feeling that she is. Nowhere in the three books have I really felt that she undeniably bested others. Of course she can't be the best at everything. But I just feel a bit too much like she's all bark and no bite. Obviously there are some moments in which Celeana's talents rise up in the story, but it's just not enough to really convince me of her superior cunning as an assassin.
Onto the novellas!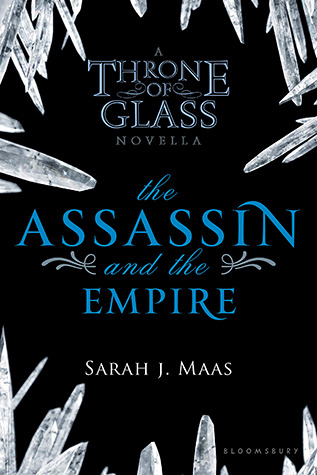 (Why I can't find the matching cover for the second novella, I have no clue. It bothers me a lot actually!)
So these novellas take place before the first
Throne of Glass book
 and that's fun. Because we keep hearing vague descriptions about certain events that took place and now we find out what the real story was! But I have to say that while I enjoyed the background story these novellas offered, I don't think I'm the greatest fan of these. There's definitely something there but when I look at these shorts as a whole, they are slightly lacking. Maybe that has a bit to do with me not being the greatest fan of short stories, but I also think that Sarah J. Maas's writing isn't perfectly suited for these shorter pieces.
The assassin and the healer was definitely my least favorite novella, and it was also the shortest. I just didn't think enough really happened in this for it to be a novella on its own. I was partial to the first one though, because I enjoyed the pirate-y goodness of it all.
The main problem with these is that I don't like Celeana in these books. She looks down on Sam, she looks down on the healer, and she constantly thinks she's all that. I'm a firm believer in character growth throughout a series and let me tell you, that year in the salt mines will do Celeana a lot of good. Because I failed to find her "sas" in these novellas entertaining and found it more annoying that anything. Her self confidence just consists of her thinking she's better than the others and not showing them adequately how she is in fact better than them. (And don't even get me started on how not right I think the whole thing with Sam feels).