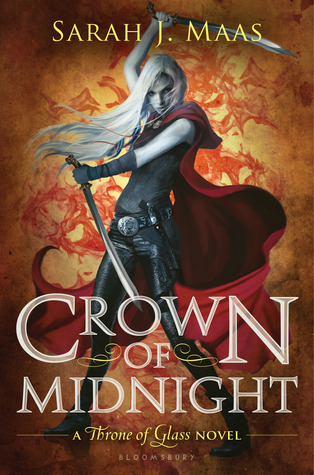 "A line that should never be crossed is about to be breached.
It puts this entire castle in jeopardy—and the life of your friend."
From the throne of glass rules a king with a fist of iron and a soul as black as pitch. Assassin Celaena Sardothien won a brutal contest to become his Champion. Yet Celaena is far from loyal to the crown. She hides her secret vigilantly; she knows that the man she serves is bent on evil.
Keeping up the deadly charade becomes increasingly difficult when Celaena realizes she is not the only one seeking justice. As she tries to untangle the mysteries buried deep within the glass castle, her closest relationships suffer. It seems no one is above questioning her allegiances—not the Crown Prince Dorian; not Chaol, the Captain of the Guard; not even her best friend, Nehemia, a foreign princess with a rebel heart.
Then one terrible night, the secrets they have all been keeping lead to an unspeakable tragedy. As Celaena's world shatters, she will be forced to give up the very thing most precious to her and decide once and for all where her true loyalties lie…and whom she is ultimately willing to fight for.
So I definitely didn't lie in my previous book review, I did go straight to the second book in the series. And I enjoyed it about as much as I enjoyed the first book. Mostly because it felt very familiar to the first book, meaning that the good and the bad from the previous book did continue in this part of the saga as well. In a way that's normal I guess, though I was hoping to get a bit more from this book perhaps. But maybe in the next one! Because even though this book still didn't rock my socks off, reading it still was a very fun way to spend some time. Yes the focus still wasn't enough on the killing and the epic plots that are happening. There's still a bit too much of the googly eyes and swooning going on for me to be honest. And another thing I noticed in these books that all the new people that enter into the story will always be described in very strong terms. Sometimes it's just a bit overpowering, especially since it becomes a bit hard to believe that everyone is so striking, so enticingly special (Or maybe that has something to do with the water in these far-away realms?)
But this book did really build on what was going on in the previous book. And while it was setting up for certain things in the future, it wasn't done in a very blatant way. Nor did it make this book any less fun (because that's just one of my pet peeves! Those connection books in between two much stronger books, horrible!) which is a strong point for this book. And it definitely promises a lot for book number three, which I will be picking up instantly!