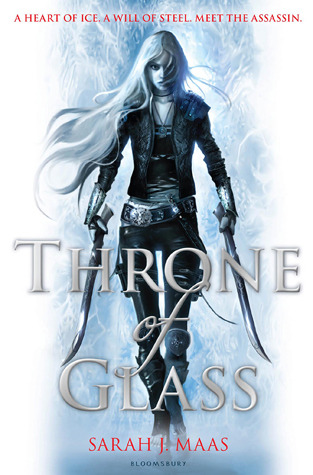 Meet Celaena Sardothien.
Beautiful. Deadly.
Destined for greatness.
In the dark, filthy salt mines of Endovier, an eighteen-year-old girl is serving a life sentence. She is a trained assassin, the best of her kind, but she made a fatal mistake: she got caught.
Young Captain Westfall offers her a deal: her freedom in return for one huge sacrifice. Celaena must represent the prince in a to-the-death tournament—fighting the most gifted thieves and assassins in the land. Live or die, Celaena will be free. Win or lose, she is about to discover her true destiny. But will her assassin's heart be melted?
How could I withstand a book that's about the most renowned assassin in a Kingdom where magic once used to roam the earth? I'll tell you how: I didn't. I dove straight into this book thinking I'd love it with all of my heart. This turned out only to be partially true because I wasn't as smitten as I'd hoped to be. At the heart of this book is a truly entertaining story about an epic assassin. But for my taste the book focused too much on things other than the nature of this young woman. Put plainly, the love storylines definitely got in the way of the good stuff for me. I'm not saying that Celeana isn't allowed to have a rounded personality, because she really does. I actually really love characters that have a lot of depth, a lot of smaller things that make her tick. I enjoy finding out that she loves beautiful clothing and a lot of other small facets of her personality. But at times it got to the point that the kick-ass action scenes get shoved aside in favor of bonding time that is obviously setting up for a certain end-game.
But as I said the premise in this book was a lot of fun and it really did do the job of capturing my attention. The book could have definitely been lifted up to a higher level (in my opinion) if there had been more action, more bad-ass assassin moments, some great training scenes. I also wouldn't have minded a little bit more description about the scenery. About most locations in this book I have only a very faint idea of what it looks like and I think that's a shame. A big part of the book takes place in a glass castle, yet I have no idea of what it looks like other than that it's made of glass (It just leaves me with so many questions such as: colored glass? different colors? how does the sun react around this glass castle?). I think it would have really added to the story to have more of a feel of the surroundings.
Still I have to say that I thought this book was fun, despite its shortcomings. I also admit to going straight for book number two, hoping to find a little more depth to the story and a little less love.