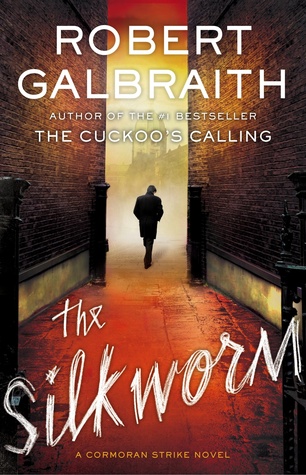 The Silkworm (Cormoran Strike #2)
Robert Galbraith
Goodreads Synopsis:
When novelist Owen Quine goes missing, his wife calls in private detective Cormoran Strike. At first, Mrs. Quine just thinks her husband has gone off by himself for a few days—as he has done before—and she wants Strike to find him and bring him home.
But as Strike investigates, it becomes clear that there is more to Quine's disappearance than his wife realizes. The novelist has just completed a manuscript featuring poisonous pen-portraits of almost everyone he knows. If the novel were to be published, it would ruin lives—meaning that there are a lot of people who might want him silenced.
When Quine is found brutally murdered under bizarre circumstances, it becomes a race against time to understand the motivation of a ruthless killer, a killer unlike any Strike has encountered before…
Though I haven't reviewed a lot of detective books on here, I do really enjoy reading them. And this book really delivered. I liked it as much as the previous Cormoran Strike book, or maybe just a little bit more but that would just be because I know the characters better by now. But even if you haven't read the previous book, this will probably still be a very good book. And I definitely look forward to a third book in this series to get to know all these people even better.
This book was just filled with lots of surprises on the plot-front. I really had no clue who was the real killer right until it was about to be revealed, and that was a lot of fun. The relationship between Strike and Robin was also developed further in this book and I enjoyed finding out more about them. There was a great depth to this story and the lovely prose just made me want to curl up with this book and read until it was finished.And besides just being beautiful prose it was also filled with very keen observations and some clever jokes to boot. The whole of the writing was just a very great combination of so many things and it turned out wonderful.
But the best thing about this book was the whole publishing world that was being portrayed in it. We got to meet all different kinds of writers and people in the publishing business and it was great to see a little bit of the other side of the book. Obviously the characters were caricatures and none of them really came out very well. These people are all very hard to love but despite that, the book still stays enjoyable all the way through. Just writing about this book makes me want to read it all over, even though it hasn't even been that long.